Top Rated Granite Countertops
in Charlotte NC & Columbia SC
Complete Working Kitchen in 1 Day
Most kitchens can have the old tops removed and new tops installed in just one day.

We also an arrange to have our plumber on site the SAME DAY to reconnect your plumbing and ensure your faucet is working.
We install Granite Countertops in all of Charlotte NC and Columbia SC. We use advanced technology every step of the way with your granite countertop installation. We use a highly advanced computer laser templating device to template your cabinet space and countertops. This gives us the exact, perfect dimensions for your countertop.
Come to our Concord showroom to pick out your 3CM slab. We are very picky when our slabs are delivered and only keep the best quality, best looking slabs in our granite yard. Pick the slab you like best for your countertop installation.
At our Concord NC fabrication shop, we use only the best tools and equipment to cut your countertop. Every edge is custom cut to perfection, giving you the absolute best quality work.
At installation, you will meet our best installers. These installers have been working with granite countertops for several years and know what they are doing. They have advanced seam technology equipment to use on your granite seams during installation (that is, if you have any seams at all!). This seam equipment will tighten the two sides of granite together as closely as possible, giving you the tightest seam, making it nearly invisible to sight or touch.
Watch our video (below) "Find the Seam". Have virtually invisible seams with us, that is -- IF you have any seams at all!
We offer two different types of sealants for your countertops: 15 year Sealant and a Lifetime Sealant. Both sealants will help protect your countertops. Most people have to re-seal their countertops every 3 - 4 months, depending on use. The seal will help protect your countertop from stains or other abuse. Our 15 year sealant protects your countertop for 15 years -- no additional sealing needed. Or, choose our Lifetime Sealant and NEVER have to seal your tops again. The lifetime sealant is applied through a 7 - 10 step process. Both sealants can be applied within 20 minutes to an hour, depending on the size of your countertops.
Choose your slab -- then choose your layout!
Don't like that spot there? Want to keep the movement of the slab near the stove?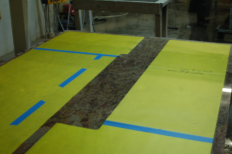 Come to our location after your template has been done. You can then pick the 3CM granite slab we will use to cut your kitchen, then you can even choose the layout!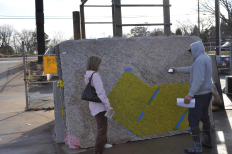 Recommended Reading
Caring for you granite countertops.
New Module
Add content here.