There are many sizes and shapes of sinks to choose from. Here are some of our most popular sinks:
| | |
| --- | --- |
| | |
| 50/50 Stainless Steel | 100-Full Bowl Stainless steel |
| | |
| 60/40 Stainless Steel | 40/60 Stainless Steel |
| | |
| 70/30 Stainless Steel | 30/70 Stainless Steel |
Prep Sink
50/50 Stainless Steel Sinks
The 50/50 Stainless Steel sink is the most common and most workable style.
The 60/40 and 40/60 Stainless steel Sink
Add to the flexibility of a double bowl sink using unequal size bowls-60/40 or 40/60 sinks offer a larger size bowl for washing items like pots and pans. Usually the smaller size bowl is where the garbage disposal is mounted.
70/30 or 30/70 Stainless Steel Sink
This model is great for washing larger size items and also having the option to use the smaller sink as a prep area. As in the 60/40 sink, the garbage disposel usually is mounted under the smaller bowl.
The Full Bowl or 100 Stainless Steel Sink
This style is quickly becoming very popular in kitchen remodels, great for extra large items. For washing, soaking and a good replacement for laundry tub that is missing from most new homes.
Granite Composite Sinks
A composite granite sink is made from real granite. It is made using a mix of granite stone dust and acrylic resins molded into sink form. These sinks come in white, brown, black and an assortment of cream colors.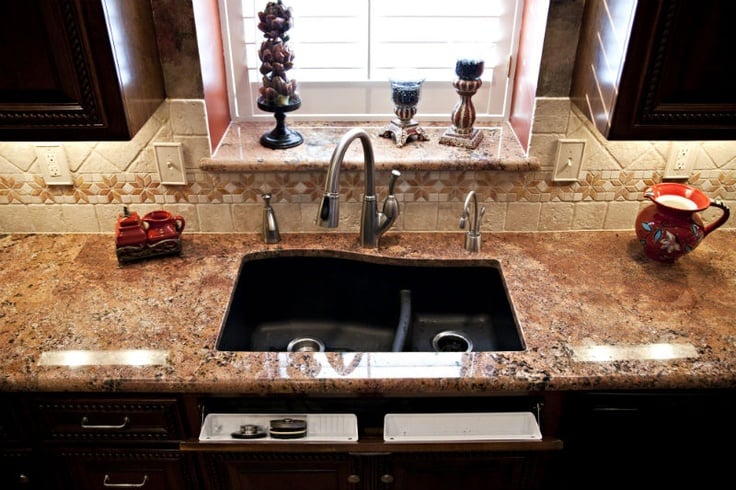 Bathroom Sinks-Porcelain
Porcelain sinks for the bathroom are the standard style for this remodeling project. You can select from white black and bisque. Styles come in oval and rectanglular shapes
Bathroom Sinks-Vessel Sinks
Looking for a unique design for the bathroom. Vessel sinks sit on top of the countertop. This style is becoming very popular, kind of a throw back to the bowl and basin style of the past. Designs come in glass, metal, ceramic and others.
Other Types of Sinks
More sink are available-everything from small prep sinks to this unusual peanut sink shown below.